Your giving to FBC helps us to do what we do. We exist to help people find and follow Jesus, this includes finding faith as well as hope. Every week we connect with hundreds of individuals, helping them to take a next step on their journey of faith or helping them take a step out of poverty or the difficult situations they find themselves in through our Community Teams.
Giving is a Personal Discipline, that's one of 3 ways in which we grow our faith. When we give we begin to trust God with our finances, as well as allowing ourselves to be the boss of our money rather than our money being the boss of us.
What we do with our money shows what is really important to us, giving to FBC is a crucial way of helping this church feel like your church.
Because of the generosity of the people who give to FBC, we are able to help people in real need. If that's you, please reach out to us at care@finchampstead.com.


How do I Give?
Where does my money go when I give?
That's a great question, we are so glad you asked it! FBC owns and operates the FBC Centre. This is a self-sufficient, self-funding enterprise. It's not a revenue stream for us but a ministry opportunity. We built the FBC Centre as a resource to help us reach out into the community and demonstrate God's love. All the income generated by the FBC Centre goes towards the running of the centre.
When you give to the FBC General Fund (that's the pot of money we use to operate as a church) we use that money in the following ways:
20% is given away to support organisations and charities locally, nationally and across the world
55% goes towards staffing costs for staff members who are not involved in the day-to-day running of the FBC Centre
10% goes towards direct costs - that's the bills for things like heating and electricity
15% goes towards ministry costs - that's the stuff that actually helps us to do what we do, craft for kids groups, small group resources, equipment, etc.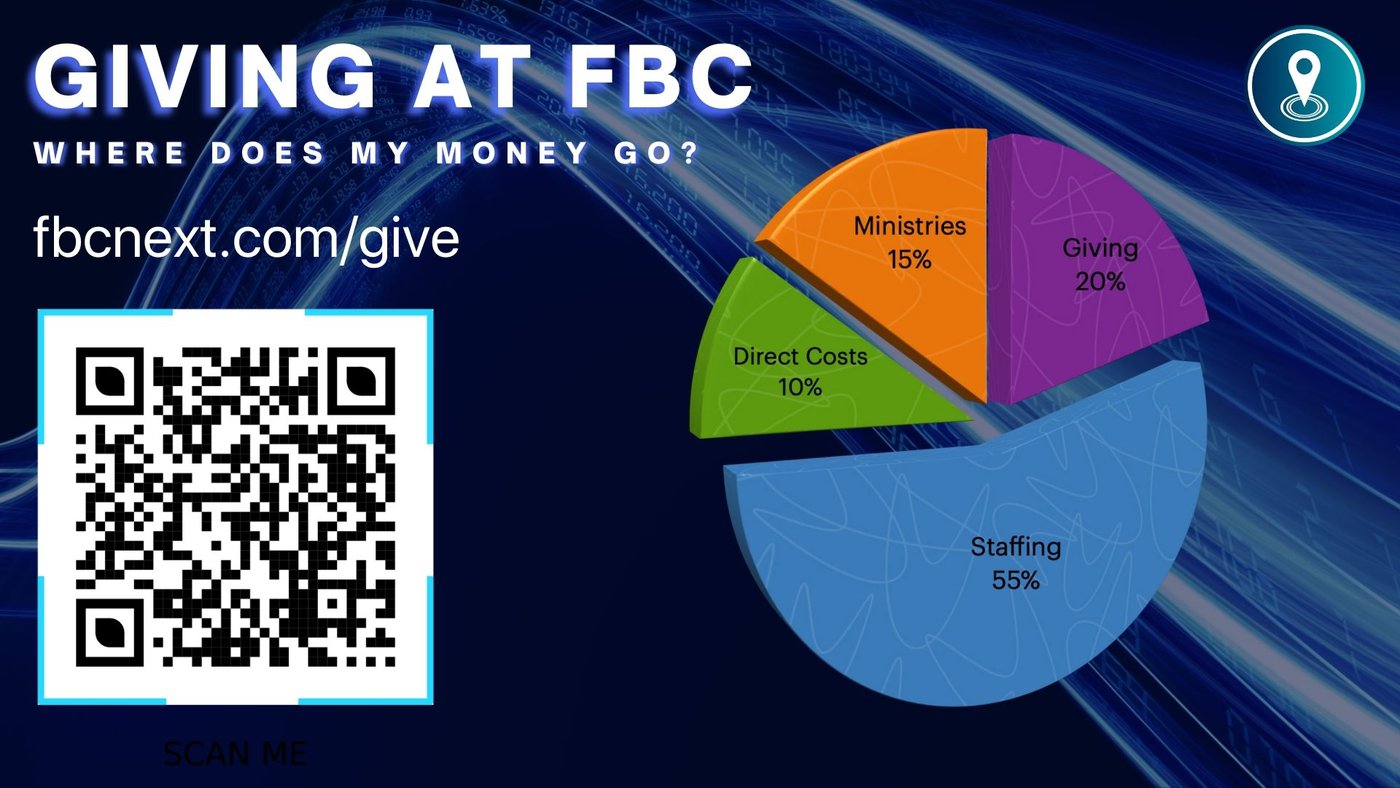 Giving results in changed lives, that's why we do what we do. Here's a story of a life that has been impacted as a result of the generosity of the family at FBC.