We have been on this journey together for some time, last summer we shared some thoughts about the potential future of the church, please take a moment to remind yourself of some of this by visiting the adventure page. Watch the video or read the document, the information contained on this page is a continuation of this theme.
Route out of lockdown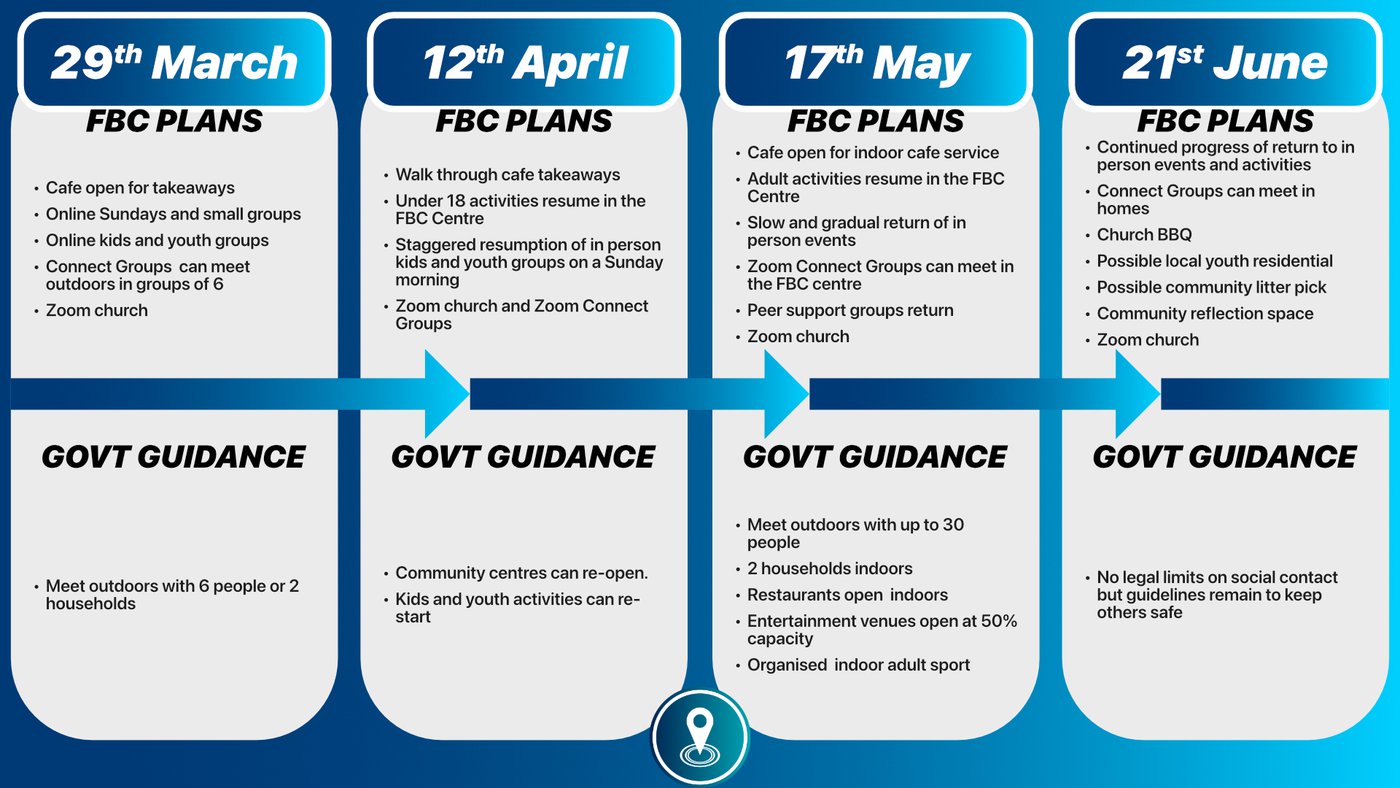 A phrase that has kept coming back as we think about the future and how we respond as a church is 'The world in front of you is different to the world behind you.' Throughout history there have been world-changing events that have changed the landscape, as a result, the church has adapted and changed with the world around it. Whilst the message of the Gospel is unchanging, the things we do to share, experience and grow in the gospel continues to shift with the culture around us.
The day of Pentecost and the stoning of Stephen, resulting in the persecution and scattering of the church, are two examples we encounter early on in the book of Acts. The church changed as a result of these events, the message and mission stayed the same but what they did, how they met together changed. The conversion of the emperor Constantine, the creation of the Bible, the reformation, the translation and printing of the Bible. At each event, the church changed.
What do we sense God is saying?
We believe that God speaks, but we recognise that rarely does God speak in concrete plans and ideas. As we have prayed, listened, looked at what is going on around us and learned for others who are a few steps ahead, we have a strong sense that the church that emerges out of this pandemic will be different from the one that went in. We don't know what that difference is, or what impact it will have on the things we do. What we do know is we want to tread carefully and wisely into the future. We want to resist the urge to run back to how things were before without taking the time to consider how our world and community has changed and how God is calling us to change in order to be the church our world and our community needs.
We take value and see the importance of learning from others, but that doesn't me we do what others are doing, just because they are doing it. Based on our past experience, present reality and future hopes and dreams, what is the wise thing for us to do as FBC at this point in time?
The rough plan we have created is based on what we believe is the wise thing for us to do right now. There are 5 priorities that have come out of our prayer and planning that have influenced this thinking.
Focus on the mission
We exist to help people find and follow Jesus, everything we do is focused on this goal. We also recognise the tension that any people group faces of becoming overly inward-looking. A key part of our DNA at FBC is to be outward-looking. We seek to give a disproportionate amount of attention to the people outside of the kingdom of God, following Jesus in his mission to seek and save the lost. We also recognise that a key way we grow in our faith is through partnering with Jesus in his mission to draw people to his father.
Prioritise kids and youth
We have always prioritised kids and young people, it's part of who we are. The faith of their generation is of huge importance to us, the church of today and of tomorrow depends on it. We have also seen, along with many other churches that digital connection for children and young people is really challenging. We want to be able to get them back meeting together in a safe environment as soon as we can.
Protect our volunteers
Volunteering is life-giving, it helps us grow in our relationship with God and with each other. However, it can also be draining, especially when volunteers are in short supply. Something that is a joy quickly becomes a burden. We want to be able to give opportunities for people to be stretched in their faith through volunteering without breaking them! If we try to do everything in one go it will put too much strain on volunteer recruitment and our volunteer teams.
Be inclusive
We will all respond differently to the lifting of lockdown measures, some of us are ready to get back to practice as normal whilst others of us will want to proceed with more caution. We want to ensure we are mindful of the tensions around 're-entry', seeking to provide opportunities that are helpful and sustainable.
Go slow and experiment
We know that it takes a lot of time, energy and volunteers to be able to deliver the programme we were delivering pre-Covid. We don't want to rush straight back into doing exactly what we were doing before. We want to be flexible enough to adjust the format of what we do for the changing world ahead. There are still so many unknowns. This next phase is an opportunity for us to try some things out, to learn and prepare for the future.
The Plan
This rough plan is built upon these priorities combined with the belief that the world in front of us will be different to the world behind us, and the government's guidelines for re-entry.
Phase 1: From 29th March
The big change in the guidelines is that we can meet outside in groups of up to 6 or two households. This has very little impact on what we are doing at FBC, the plan for this phase will be as it is currently. Small groups could meet in gardens with up to 6 people, or you could meet up with another family outside to do zoom church together. In this phase, our church programme is predominately digital, just as it has been throughout this year.
Phase 2: From 12th April
From this date, non-essential retail can resume, as can indoor activities for under 18's. The FBC Centre will reopen for under 18 activities, the café takeaway will be a walkthrough instead of serving from the back doors. We will also slowly begin to resume in person kids and youth activities. The likelihood is that this will start with one age group and we will add extra age groups in as we go.
Phase 3: From 17th May
From this date you can meet outside with up to 30 people, or indoors with two families. Organised adult activities can resume indoors and entertainment venues can reopen at 50% capacity. The café will move to indoor table service and adult activities will resume at the FBC Centre. We will start to introduce a slow gradual return of in person events. We will create opportunities for things like nights of worship, family worship gatherings and some sort of hybrid zoom and in person Sunday morning gathering. Connect Groups will be able to meet inside the building during this phase and peer support groups like the sanctuary and grief and a cuppa will be able to resume.
Phase 4: From 21st June.
This is the date from which all restrictions are lifted, although we do anticipate that there may still be some guidelines or recommendations in place to keep one another safe. During this phase we will continue our gradual progression of in person gatherings. Connect Groups will be able to meet in homes again, we hope to be able to host a church BBQ and potentially a local residential for young people. We will transition our Community Team from Covid response to longer term community support and we hope to be able to engage in a community litter pick at some point over the summer or early autumn.
There is still lots we don't know
These dates are markers in the sand, there is much to sort out before some of these opportunities can go ahead. They are written in pencil, not engraved in stone! They give us something to aim for and work towards. Safety is our Number 1 priority. We will only go ahead if we are sure we can create a safe environment for the people who attend and the volunteers who serve to make this all possible.
As we return to in-person gathering we don't want to overload our volunteer teams. We want to ensure that serving is a joy, that it is something that encourages us and draws us closer to God.
Questions to consider
There are a whole load of questions we are praying into and wrestling with, we would love for you to pray into these with us.
How do we continue to prioritise the missional movement of the church?
Our engagement with the community has increased during these last 12 months, but the numbers of new people connecting with us on Sunday's at other events has decreased. How do we create opportunities for people to invite and share their faith with family and friends?
How frequently should we gather in person?
Regular 'church' attendance in the UK pre-Covid was once every 3 weeks. What impact has the pandemic had on our future rhythms of attending church? What is a helpful and sustainable rhythm of larger-scale gatherings for our congregation and volunteers?
What are the things we need to be able to do to make gathering in person worthwhile?
If we can't sing together, talk to each other, be within 2 meters of each other is it still worth gathering together in person instead of online?
What are the things that are going to help us find and follow Jesus at the different stages of faith we are all at?
We 'do' church because we want people to discover Jesus and grow in their relationship with him. One size rarely fits all, how can we create opportunities for people at all stages of faith to continue to grow on their journey, whilst recognising and resisting the automatic tension that seeks to prioritise our own wants and needs over the needs of others. How do we remain an outward-looking church at the same time as helping everyone grow in their faith?
What is the future of digital church?
It has been wonderful that we have been able to connect online whilst we haven't been able to meet in person. What are the digital opportunities we can continue to offer as we start to regather physically?
What's God up to?
Where is 'God on the move?' What 'new thing' is he doing during this season? Where do we anticipate he is leading us?
The mission hasn't changed
In the midst of change it is important to recognise the things that don't change. Our reason for existing, the why behind what we do doesn't change. Our why at FBC is to help people find and follow Jesus, that doesn't change even if the methods do. Our principles remain the same, even if our preferences and practices change. We outlined the vision for 2021 at the start of the year, this is based on the trajectory that God has led us throughout our existence as a church, the path we are on is the same path we have been on since FBC was launched in the 1800's! A lot has changed since those days, but the purpose remains the same. FBC was planted to reach this community for Jesus, they might not have used these words back then, but it was to help people find and follow Jesus.